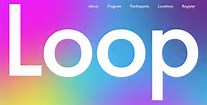 Loop is three days of discussions, performances, presentations, studio sessions and interactive workshops aimed at exchanging ideas at the cutting edge of music, technology and creative practice. Bringing together artists, technologists, educators and other creative thinkers, Loop is a collective exploration of what it is to make music today and what it could be tomorrow.
Loop is partnering with Berlin Community Radio for 2016 to present a live radio stream from Funkhaus over the Loop weekend – on Fri 4 and Sat 5 Nov from 12:00-18:00. All BCR shows will be made available as podcasts afterwards.
On Friday, November 4th, from 3pm to 4pm, Gudrun Gut presents female:pressure. In this program, Gudrun Gut will present some of the artists from the female:pressure network, including Pia Palme, Mila Chiral, Anna Leopolder, Donne Maya and more, who are coming to Loop as participants. Gudrun Gut has been a key player in Berlin's cultural landscape for the past 30 years through numerous solo projects, bands and collaborations. She runs the Monika Enterprise and Moabit labels, releasing mostly female artists, and hosted the Oceanclub radio show with Thomas Fehlmann for many years.