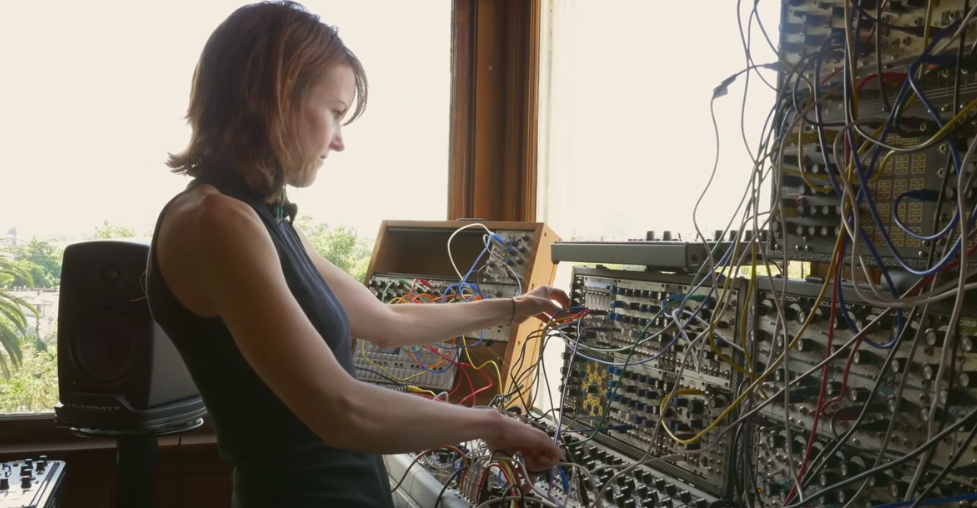 On Wednesday, April 13th, we will welcome the extraordinary artist Kaitlyn Aurelia Smith at our regular Ableton user group meeting. She will demonstrate how she uses Live in her setup for vocal manipulation and mixing her analog synths.
Kaitlyn Aurelia Smith's formative years were spent communing with nature on Orcas Island in the northwest region of Washington state, a place she describes as "one of the most magical and peaceful places I have ever been." Though she wouldn't begin experimenting with modular synthesis until many years later, her creative work continues to be infused with and inspired by the vitality and serenity of Orcas.
Kaitlyn has made a name for herself as an inventive synthesist and expert sound designer, initially focusing on her voice as her primary instrument. A fateful encounter with a neighbor who lent her a Buchla 100 synthesizer, had a profound effect on her. Mesmerized by the Buchla's potential, she explains "I got so distracted and enamored with the process of making sounds with it that I abandoned the next Ever Isles album." Starting with rhythmic patterns and melodic pulses, she soon began sculpting lush and exciting worlds of sound.
Because Kaitlyn is on tour with her new album called EARS we got the chance to invite her to our next meeting. And possibly she will play some songs for us.
Some more infos about her and her music you will find here:
https://soundcloud.com/western_vinyl/kaitlyn-aurelia-smith
http://westernvinyl.com/news/
Date: Wednesday, 13.04.2016
Time: 8 pm (on time!)
Admission: free
Location: Panke, Gerichtstr. 23, Hof V., close to S-Bahn Wedding.
Please check the website of Panke to make sure to find the place: http://www.pankeculture.com/