Beim zweiten Ableton User Group Treffen am 25.1.2017 geht es um Pionierinnen der elektronischen Musik und ihre Werke – mit einer Präsentation dazu und einer Live Sound-Performance des Produzentinnen-Kollektive "minutektiv" aus Berlin. Diese Veranstaltung ist Teil des Vorspiel-Festivals im Rahmen des diesjährigen CTM-Festivals.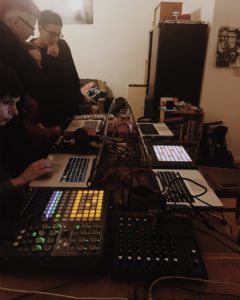 Beginn: 20.00 Uhr
Eintritt: frei
Ort: Panke, Gerichtstr. 23, Hof V., Berlin-Wedding
Weitere Infos zu dem minutektiv Kollektiv:
"minutektiv" is a group of music producers from Berlin. Every few weeks they publish their minutes collection – a collection of one minute tracks, each produced in an hour or less and following a collective guideline of musical requirements.
https://soundcloud.com/minutektiv
The members of "minutektiv" are:
Baly Nguyen is a performance artist. She works in Berlin, Frankfurt am Main and Gießen. In addition to her essential engagement with sound, her focus is on installativ-performative design of room and space. Her first works were realized at HAU Berlin. Since 2013, Nguyen studied at the "Institut für Angewandte Theaterwissenschaft" in Gießen.
https://soundcloud.com/baly_nguyen
Donna Maya is a musician, composer and producer of electronic music. She combines theremin playing with electronic beats and a reggae vibe to create a complex but danceable sound. Donna Mayas music got released internationally. Her creative style led to invitations to perform at Sonar in Barcelona, Transmediale in Berlin and the renowned "Pinakothek der Moderne" in Munich.
http://www.donnamaya.de/
Katharina Hauke, a.k.a. Plümmok, is an audio-visual artist based in Berlin. Her work ranges from camera to sound design, photography to performance. With her instrument MikroKontrolleur she plays concerts and takes part in artistic research projects.
https://soundcloud.com/mikrokontrolleur
Mila Chiral is a Berlin-based dancer-choreographer and electronic musician, who works in composing sounds and poetry as well as bodies and movements in time and space. In her music sounds, beats and (sometimes) poetry are set carefully into a delicate, multilayered gaze of colors and dynamics – always longing for moving bodies in the spaces and ambience she creates.
https://soundcloud.com/milachiral
https://www.facebook.com/milachiral
Nihad El-Kayed, a.k.a.plümmon, creates electronic music with an interest in experimental sounds and structures. She is part of the duo PLÜMMO (together with Katharina Hauke / plümmok).
https://soundcloud.com/pluemmo
Anna Leopolder is a music producer, remixer, live performer and visual artist. In the past, she was founding member of two notorious punk/trash bands and worked as DJ for 8 years (minimal, deep house, electronica). Basically all her tracks and remixes have got this unique dark and cryptical athmosphere which is immediately captivating! Her music has been released on several labels such as Berlin based Reveller Records, TWIRL! Records (Chicago), Yes Yes Records, Minina Music and on the "Zoolook Revisited Album" (selected by Jean Michel Jarre) – together with Daedelus, Simonne Jones, Mikael Seifu und Luke Vibert.
https://soundcloud.com/annaleopolder
Thordis Meyer is a zigzag-biographical "ver_w_ortete" singer, performer and producer of electronic music from Hamburg and Berlin. Since 2016 she is a student of performance studies at the University of Hamburg and organizer of the performance festival NAKT UNPLUGGED.
Also to the collectiv belongEna Lind (https://soundcloud.com/enalind) and Laura.
A very short video from the sound performance @ Panke: minuetektiv @ Panke