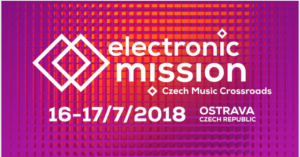 For the first time, in 2018 the Czech Music Crossroads international music conference & showcase festival in Ostrava (Czech Republic) will present a new genre 'off-spring' with a parallel programme called Electronic Mission. The objective of Electronic Mission within Czech Music Crossroads is to bring together Czech and foreign actors on the electronic music scene and to create a platform for discussion, the sharing of experience, knowledge and skills as well as presentations of local progressive electronic music that has a potential to become international or has already done so.
Electronic Mission will give an opportunity to network not only internationally but also within the local scene, which has not enjoyed sufficient attention as a whole. The first year's ambition is to map the scene, reflect, develop and network. It also wants to point out that the electronic music is not just about clubs and entertainment. Music makers as well as a number of teams, purpose-committed projects and experts working on the local scene will present themselves. The programme will include lectures, discussions and workshops for musicians, promoters, managers, agents, educators and music journalists.
UPSTART founder Maya C. Sternel will give a workshop about Ableton Live and Push as part of the conference programm on Monday, 8.30 pm.
More information and programme: http://crossroadsmusic.cz/electronic-mission-programme/