­UPSTART Electronic Music Education offers workshops and certified trainings for composition, arrangement, mixing & mastering and live performance.
We're glad you are interested in the music production courses offered by UPSTART. Starting in 2016 we'll be extending our program and offer courses for English speakers as well.
This specific page sums up all relevant details regarding English courses and gives you a brief overview about UPSTART in general.
---

Course catalogue
UPSTART offers high-quality classroom courses and workshops for electronic music production in Berlin and online with a wide range of topics for both beginners and advanced students.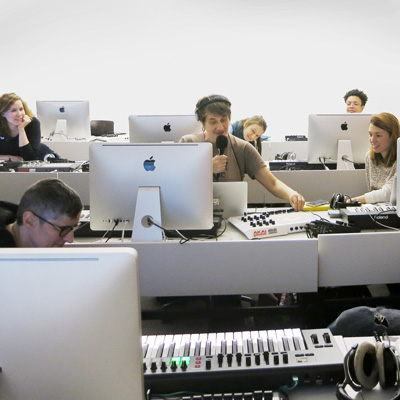 Our course program covers all stages and aspects of electronic music production techniques and include instructions in
beat programming as well as producing different genres,
song structure and arrangement,
mixing and mastering,
synthesis and sound design,
music theory,
live performance techniques and more.
Each course is designed to help our students realize their own musical ideas.
---
Our instructors
Our expert instructors guarantee the quality of our program. All instructors are musicans and Ableton certified trainers with a longtime experience in the music industry.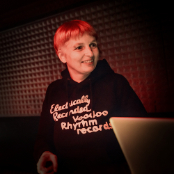 Maya C. Sternel
Founder of UPSTART, Director of Curriculum and Instruction; Ableton Certified Trainer


Maya Consuelo Sternel is a Berlin based musician, DJ and producer, combining bass music with Theremin, and the very first female Ableton certified trainer. Her music got released internationally on various labels. She also composed turntable concerts for philharmonic orchestra and DJ as well as contributions for soundtracks like the movie "kurz und schmerzlos" by Fatih Akim. She studied audio engineering and made a Master of Arts in Systematic Musicology at the university of Hamburg with a focus on electronic music and DJ culture. She is founder of  UPSTART. In addition she writes regularly for the "Beat" magazine and is author of the book "Beat Programmierung"
Instructor for UPSTART courses in English, Live Electronic Artist & Producer;
Ableton Certified Trainer


Pete, also known as "Metapattern", is a live artist, producer, promoter and educator. Releasing his unique fusion of digitally produced techno and improvised analogue sound design on Melbourne's Machine label, his sound often traverses elements of progressive, trance, industrial, noise/drone and ambient.
Pete hails from Austria and has spent the past two decades basking in Australian sun before coming to visit Berlin to experience the well supported creative arts scene. Whilst in Australia he has taught at SAE Institute Brisbane for 9 years and gained various academic achievements including; Ableton certification, a degree in digital media, and a postgraduate in academic practice.
More: http://www.upstartmusic.de/wordpress/unser-team/
---

About UPSTART
We do share our knowledge! Our mission is to inspire and enable our students to achieve their creative goals.
Our program fully supports an individual and creative approach towards music production and encourages students to develop a musical style and expression of their own.
Through multiple teaching approaches, perspectives and methodologies, our aim is to help our students develop artistic work, make and perform music and to fully actualize their own creative ideas.
Our incstructor are experienced musicians, establishes producers and Ableton Certified Trainers with a longtime experience in the music industry who provide their special knowledge and mentor our students to help them develop and grow as artists.
We've met our goals when participants of UPSTART courses widen their musical vision and learn about new technical aspects of music production, even more create new and exciting music inspired by this experience.
---
All UPSTART Berlin workshops and classroom courses take place at our classroom at ARTtraktiv, located at Beilsteiner Straße 121 in 12681 Berlin-Mahrzahn. (Estimated travel time by public transport from S/U Warschauer Strasse to S Springpfuhl is about 15 minutes.)
To provide extensive support, assistance and mentoring for all students all courses are usually not exceeding the number of eight students.
Facilities / Equipment
Our classroom provides a modern, high quality technical environment which enables our students to explore all aspects of electronic music production and develop individual live performances.
Our facility is equipped with multiple workstations, featuring
8 Apple iMac 21,5 workstations

Ableton Live Suite Edition

Ableton Push 2

Focusrite Scarlett 2i4 Audio-Interfaces

Novation Impulse 25 Keyboard-Controller

AKG-240 Studio Headphones
---

Ableton User Group Berlin
Beyond our classroom and online courses we're committed to networking, integration and organization of local scenes. One aspect of this work is the buzzing Ableton User Group Berlin which was co-established by UPSTART founder Maya C. Sternel in August 2014.
All Ableton User Group Berlin meetings are held in English. Further information and monthly dates can be found here:
Meetup and Facebook
---
Contact
For further and more specific questions please get in touch: